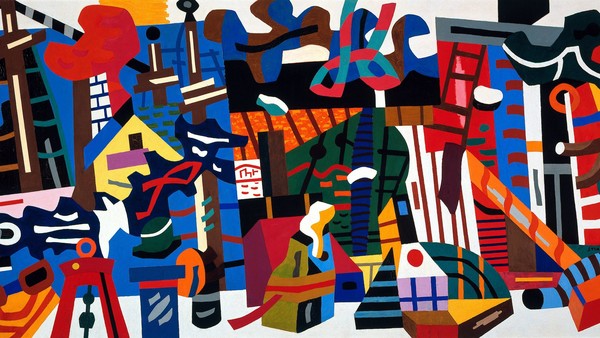 Stuart Davis has usually enjoyed a seat at the high table of American art now, the Whitney Museum's buzzing new retrospective demands that he take pride of location. Most surveys of early modernism dutifully recognise Davis as a critical figure in the rise of abstraction, representing him with 1 or two paintings. The Whitney's tribute, on the other hand, unrolls his career like a brilliant scroll, surprise following cheery surprise. Curators Barbara Haskell and Harry Cooper have staged a generous show, replete with soul-warming paintings.
As opposed to so numerous of his peers, Davis didn't fall for Picasso. Sure, he quaffed Cubism's ideas, guzzled Fauve colours, and soaked up Mondrian's spare geometries. But he also swirled these European advances with each other into an optimistic New York style, tinged with his personal ebullience. He thrilled to the brash graphics of advertising, and magnified humdrum products — Lucky Strike packs, Edison Mazda lightbulbs, and Odol Mouthwash ("It Purifies!") — to monumental scale. His inventive improvisations on the theme of mass culture anticipate Pop Art by virtually 40 years. Davis likened his project to euphoric poetry: "I as well really feel what Whitman felt and I as well will express it in pictures — America — the superb location we reside in."
Davis was born in Philadelphia in 1892. His father belonged to a group of newspaper illustrators who formed the core of the so-called Ashcan School. Beneath the leadership of Robert Henri, they revered the widespread man and shunned refinement, wallowing in the foulest corners of the city. "The sketch hunter has delightful days of drifting amongst individuals," Henri wrote. "He is looking for what he loves, and tries to capture it. It is identified anywhere, everywhere. Those who are not hunters do not see these items."
Inspired by such effusions, Davis dropped out of high college at 16 and went to study with Henri in New York. And even as he edged away from Ashcan realism, he never ever abandoned either the school's politics or its rituals of passionate observation. Nonetheless abstract his art became, he often injected it with meticulous love of the city.
The 1913 Armory show exploded the American art scene at a formative moment in Davis's life. Matisse, Gauguin and Van Gogh leapt off the walls and lodged in his creative brain. In Chicago, art students felt so threatened by the European avant-garde that they burnt Brancusi and Matisse in effigy. Davis, even though, understood right away how to use colour in perversely pleasurable techniques, boasting about how rapidly he "could paint a green tree red with out batting an eye".
He identified loveliness in grim times, but not via blithe escapism. In the 1930s, he plunged into activist politics, writing articles, leading an assortment of leftwing organisations, and editing the radical journal Art Front. As squabbles erupted among modernists and traditionalists over the appropriate approach to politically engaged painting, Davis argued for the power of formal innovation. Viewers, he believed, could restructure their minds simply by grappling with contrapuntal arrangements of shapes and colours. His was a subliminal revolution.
Not very trusting his theory to deliver on its promise, he usually reinforced his message with clues. The "New York Mural", made for a 1932 exhibition at the Museum of Modern day Art, applies the punchy flatness of industrial billboards to agitprop. Against a backdrop of the Empire State Building and other increasing skyscrapers, Davis inserted a collection of avatars to represent Al Smith, the progressive four-term New York governor who ran for president in 1928 and again in 1932. We see his ever-present derby hat and bow tie a pair of giant bananas evokes his campaign theme song, "Yes! We Have No Bananas" and an upended champagne glass nods to Smith's fight against Prohibition. (That lead to resonated with Davis.) Most people missed these coded recommendations, and by now they have grown as indecipherable as antique political cartoons. However his passion and humour endure, and the image nevertheless packs a wallop.
Socialist realism was the typical idiom of the Works Progress Administration, but Davis kept veering happily into abstract subversiveness. "Swing Landscape", a nearly 15ft mural that he produced in 1938 on assignment for the WPA, never ever made it to the Brooklyn housing project for which it was intended. That is a shame for the residents, considering that its kaleidoscopic patterns and hectic energy would brighten anyone's life, but at least it didn't endure the neglect that beset every other aspect of public housing. Alternatively, it wound up in the Indiana University Art Museum, and now casts its brilliant glow at the Whitney.
Safe in his individuality, Davis candidly acknowledged his influences, particularly Fernand Léger and Piet Mondrian. They assimilated urban intensity into sublime abstractions — precisely what Davis aspired to. With its vibrant colours, clangorous silhouettes and jazzy dissonances, "Swing Landscape" pays homage to Léger's "The City" of 1919. Davis also memorialises Mondrian in "For Internal Use Only" (1945), exactly where he cordons off cartoony colours within a black-striped grid. Davis saw Léger and Mondrian as soldiers of exuberance. Léger wrote that "The lovely is everywhere" Mondrian, on the run from Fascism, discovered succour in jazz syncopations and Broadway lights. All 3 perceived animated patterns in the city's grids, pulsing neon and jostling cars.
In the postwar period, Davis drastically pared down his manner and reduced his palette. He regenerated old motifs by magnifying and simplifying them. The outcomes are shocking in their clarity. "Première" (1957), a babble of block-cap monosyllables ("bag", "large", "cat", "new", "cow"), conjures a battle for the customer's focus in the supermarket. It's too undesirable that Davis's profession wound down just as Pop Art sprang to life. He was the movement's spiritual father, although his perform lacked the subsequent generation's irony and preening self-consciousness. He was that rare bird amongst wonderful 20th-century artists: an unembarrassed painter of joy.
To September 25, whitney.org
Copyright The Monetary Times Limited 2016. You might share using our post tools.
Please never cut articles from FT.com and redistribute by e-mail or post to the net.