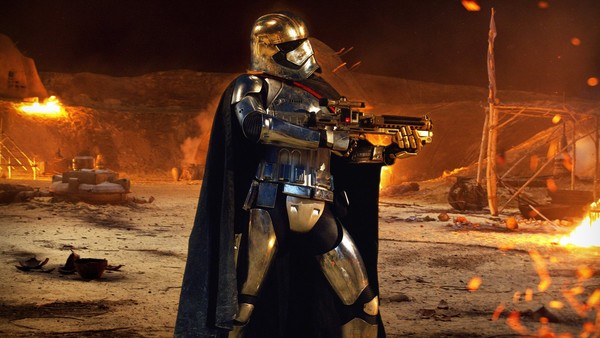 © 2015 Lucasfilm Ltd
As quickly as I left the cinema following Star Wars: The Force Awakens, a star war scarcely much less momentous started up in my film critic's brain. "I feel it need to be four stars," mentioned 1 hemisphere. "No, 3 stars," stated the other. "Why? It is a spectacular, dramatic and entertaining film," argued H1. H2: "Yes, but it is fundamentally 1 Damn Point After One more." H1: "Well, aren't they all?" H2: "Aha! Is that your case? Then there is validation, is there" — turning to the jury — "in common result in catchpenniness and lowest-denominator derring-do?"
Properly, no. There isn't. So it is three stars. But let me say this. I enjoyed the seventh Star Wars film much more than any since The Empire Strikes Back and significantly much more than — yes, reader, I was there, for this newspaper, reviewing it — the now 38-year-old saga start-up. I even remember (shimmer and lap-dissolve) the Ivy Restaurant press luncheon afterwards. Throughout it Sir Alec Guinness, seated at my table, cast a censorious glance at my asking R2-D2 (Kenny Baker) if I could have the rest of his uneaten main course. I had it. The moral: when two or much more dimensions are gathered with each other after a historic (to-be) film screening, Manicheism parochial recapitulates Manicheism aetiological.
So I know my Star Wars. Its two strengths have often been spectacle and fun. Spectacle, exciting and a wild interplanetary heroism. Three strengths. And its weaknesses have always been kindergarten mythmaking, boy-scout ethics and a practically certifiable obsession with parenthood. "You are my father" "You are my son." We get that in the new film. It provides an electrifying moment late on — the film's greatest scene — but it seems, like significantly of Star Wars: The Force Awakens, a reinvocation, a re-litanising, of what went ahead of: an echoing sometimes suspiciously much more (to the suspicious) like the ringing of the money register than the tolling of a mythic crucial.
But there is so significantly excellent in JJ Abrams' direction and script, co-written with Michael Arndt and Lawrence Kasdan. He provides the Millennium Falcon, decaying in a scavengers' desert, a thrilling resurrection and aerial exercise. He strews the landscapes, and tavern-ish scenes at a picturesque brigands' castle on Planet Somewhere, with mutants and monsters in greatest Lucas tradition. I loved the unclassifiable pachyderm slopping water at a trough, and the wrinkled visionary crone with a face like a sliced butternut squash. It is wonderful as well to have Harrison Ford bringing Homeric heft, and humour, to the older Han Solo. He is the triumph of the casting, closely followed by Adam Driver as warrior prince to the baddies, a victim of moral torment with a touch of Milton's Satan. His extended, gothic-Byronic attributes and de profundis baritone give ballast to the last reel's speech-ballooning comic book escapades.
But — and there constantly is 1 — what specifically is it we are watching? Is it any a lot more, in substance, than "this bit's fun" and "that bit isn't"? A teasing quest objective (no spoilers) just about gives path to this movie's plot. But I spy no longer-variety story location for Disney's Star Wars reboot, apart from far more clusters of baddies going up against much more clusters of goodies.
The goodies are fronted by two new leads, each British unknowns, who require more detail and finish. Daisy Ridley cuts a fetching figure as a striding scavenger heroine, bearing a staff and dressed in pleats like a thrift-shop Artemis. But five minutes soon after seeing the film I couldn't don't forget her face or voice. Black actor John Boyega, who has been trolled by imbeciles for extending the saga's racial acoustic (no a single remember Billy Dee Williams?), is likeable, open-featured and puppyishly hyperactive. But even he wilts, like a flower in excess sunlight, in the presence of Ford, who wipes competition with a single look or a one-liner. There was a little cheer for Carrie Fisher's very first look as "General" Leia. She plucks old-timers' heartstrings and bats nonetheless-fairly eyes. But she appears, here, to be acting on an power-saving bulb.
What troubles most is that Star Wars is beginning to appear like every single other franchise epic. Is that the expense of something-is-possible stories set in elastic universes? I kept getting flashes of The Hunger Games and The Lord of the Rings. The characters costumed in quasi-timeless garb (neo-Grecian the favourite). The PlayStation plots with their gauntlets of danger and games of survival. The weirdos and wackos wall-to-wall in the supporting cast. And the sense that in our gaming generation a "next level" awaits, eternally or recurringly, in the spiralling cycle of good versus evil: although we really feel a lot more and much more that the subsequent level is anything an anxious film sector can think up to keep audiences on the current level of emptying their pockets whenever The Movie Force needs.
Copyright The Economic Times Restricted 2015. You might share employing our report tools.
Please don't reduce articles from FT.com and redistribute by e-mail or post to the internet.